THE MOST FLEXIBLE CABINET MANUFACTURING SOLUTION

The Triathlon 3000 + makes you the most flexible in automatic cabinet manufacturing
The Triathlon 3000 + extends your processing possibilities in switchboard construction. Thanks to its modular crimping unit, the maximum cross section to crimp is extended to 4 and 6 mm².
Of course, also the Triathlon 3000 + offers all the advantages of the Triathlon series. According to the cabinet design, it cuts the cables to length, crimps those and prints either with an ink jet printer or thermo transfer printer. Prints can be done in two colors. The printer can also print a white background and black characters. Furthermore, the Triathlon 3000 + also pre-sorts the cables in their component groups.
In short, the Triathlon 3000 + ist the perfect solution to automatize your switchboard construction and save up to 70 % costs.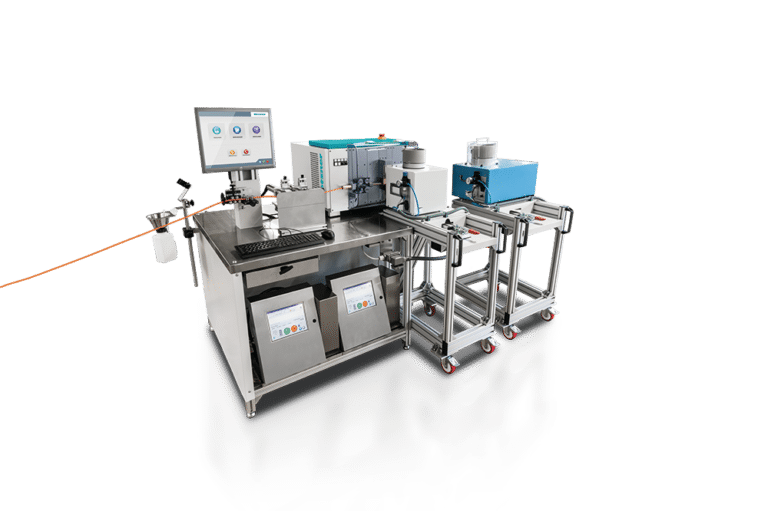 The Metzner Triathlon 3000 + cuts the cables to-length (0.5 mm² to 35 mm²), crimps cable ends up to 6 mm² cross-section, prints and helps you automatize the switchboard construction.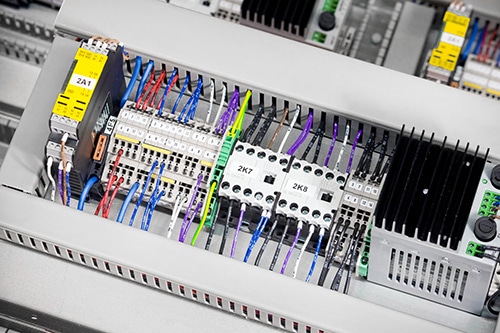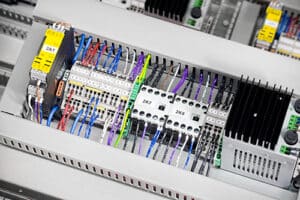 TRIATHLON 3000 +

Cable outer diameter when cutting-to-length

max. 15 mm

Cable cross section when cutting-to-length




(depending on material)

0.5 mm² to 35 mm²

Cable cross section when crimping




(depending on material)

2.5 mm² (option: 4 mm² or 6 mm²)

Cable length min.

20 mm

Cable length max.

200,000 mm

Feeding speed max.

120 MPM

Stripping length max. side 1 | side 2

220 mm | 170 mm

Electrical connection

230 V; 50/60 Hz; 3.1 A

Compressed air connection

6 bar

Dimensions (L x W x H)

1,750 mm x 1,100 mm x 1,520 mm