CUTTING WITHOUT MATERIAL FRAY
Fully automatic cutting of steel ropes and cables
When it comes to cutting steel ropes and even steel cables, standard machines cannot prevent frays. Also cuts are not precisely. That's why Metzner have developed a fully automatic steel rope cutting machine.
This processing machine with outstanding cutting quality and great length accuracy is made for steel ropes and cables of up to 20 mm diameter. Those cables are fed by a motorised feeding device in combination with a contact-free loop control.
Then, program-controlled and positionally accurate marking tapes are applied to the steel cable – with a cycle time of less than two seconds. In addition, a wax printer marks all the fastening and processing points that will be required for subsequent processing. This labelling method is carried out in a continuous process.
The cut is then made using a special cutting process. Precise length accuracy is achieved by a special laser measuring system. A material stacker with a storage area of up to 12 metres ensures that the steel cable are deposited in an orderly manner. All cut steel rope can be stored and sorted according to length to allow it to be removed at a later point.
This customized steel rope cutting machine cuts also textile covered steel ropes and cables.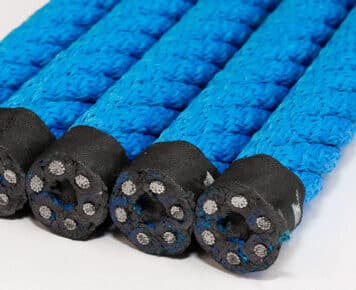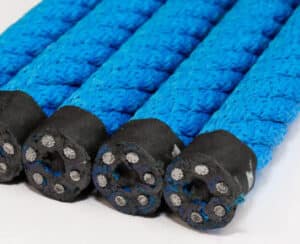 When it comes to processing cables, wires or hoses, Metzner only know solutions. How can we help you to increase your production quality even further and save costs in the process. Put us to the test: