POWERFULLY PRECISE PROCESSING OF CORRUGATED TUBES
The CT 4100 and CT 4200 cut and slit machines for the corrugated tube production
Both the CT 4100 and CT 4200 are known for how cleanly they cut corrugated tubes – in the valley or on the top. Thereby, corrugated tubes with diameters from 4.5 to 39 mm can be processed. Both machines impress in the corrugated tube production with very short changeover times, which significantly save money during operation. In addition, precise belt conveyors ensure optimum feeding, and thus an excellent product quality.   
The two models are different in the fact that the CT 4200 can also slit the corrugated tubes. 
Of course, you will be supplied with the exact matching and compatible peripherals for both cutting machines.
Corrugated tube production:
The Metzner CT 4100 cuts corrugated tubes exactly on the top or in the valley:


The Metzner CT 4200 cuts corrugated tubes and – in addition – slits them:


Model

CT 4100

CT 4200

Cutting corrugated tubes

Slitting corrugated tubes

–

Corrugated tube diameter max.




(depending on material)

40 mm

40 mm

Feeding speed (max.)

90 MPM

90 MPM

Electrical connection

230 V; 50/60 Hz; 1.2 A

230 V; 50/60 Hz; 1.2 A

Power source

electric

electric

Compressed air connection

6 bar

6 bar

Dimensions (L x W x H)

597 mm x 807 mm x 595 mm

597 mm x 807 mm x 595 mm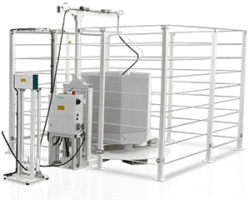 the DHS loop control system and the Octabin feeding station for corrugated tubes